Skip to Content
All About the Blue Butterfly Pea Flower
Introducing the Purplish Delish Bowl and Smoothie - a Refreshing and Nutritious addition to the Everbowl Menu
Chase away the blues with this magical color-changing flower!
Known for its creeping vines and electric blue blooms, the flowers of the Butterfly Pea plant are quite a sight to behold. Vibrant blue or violet-hued, the blossoms also feature a bright yellow slash at their centers.
Read More
Close
All About the Blue Butterfly Pea Flower
Native to Southeast Asia, where the warm climate favors its growth, the bright blue petals from the plant's flowers have been used traditionally as an ingredient in herbal teas and cooking [1]. In addition, the indigo flower turns teas and other foods a beautiful blue color when steeped in warm or hot water, making it a natural dye for various dishes and drinks.

Butterfly Pea in Food and Beverages
The Purplish Delish Bowl is a delicious blend of our classic acai base and our new Butterfly Pea Coco Limone base, topped with granola, fresh fruits, and coconut. The bowl is not only delicious but also provides fuel for movement.
The Purplish Delish Smoothie, made with our Vanilla base and Butterfly Pea Coco Limone base blended with almond milk and strawberries, is a refreshing alternative to traditional smoothies.
At everbowl, we are committed to providing our customers with delicious and nutritious options. The Purplish Delish Bowl and Smoothie are a welcome addition to our menu. Visit us today and try out our latest creations for yourself!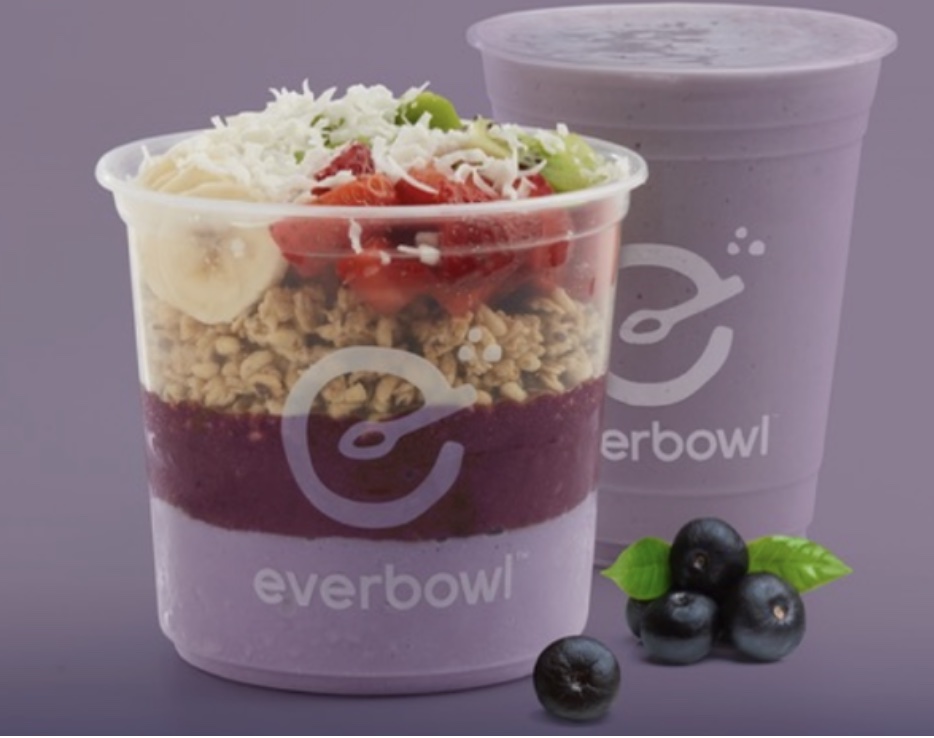 Purplish Delish Bowl & Smoothie (Pic: everbowl)
Last year, coffee giant Starbucks launched a limited-edition Butterfly Pea Lemonade Cold Brew that made its rounds on social media for its dreamy color-shifting hues.

Left: Starbucks' limited edition Butterfly Pea Lemonade Cold Brew (Pic: Starbucks)
Are you ready for a taste sensation? everbowl is excited to announce the launch of our latest product: the Purplish Delish Bowl and Smoothie. Made with our new Butterfly Pea Coco Limone base, these bowls and smoothies offer a refreshing floral flavor with a hint of lemon and coconut [2].
In Southeast Asia, butterfly pea flowers have long been used as a natural food coloring for food and drinks in Thai, Malay, and Peranakan cuisines. The petals have no scent or flavor, making them the perfect food coloring agent for any dish or drink without changing the flavor. As a tea, it has a mild woody, earthy taste, not unlike green tea.
In Malaysia and Singapore, it is known in the Malay language as bunga telang. It is used in Malay dishes such as nasi kerabu, pulut inti, kuih tekan, and pulut tai tai, where rice is naturally dyed blue.

Nasi kerabu is naturally dyed blue with butterfly pea flowers (Pic: Shutterstock)
The butterfly pea flower extract is also widely used in Peranakan cuisine and gives dishes like savory Nyonya zhang (rice dumplings) and kueh salat their signature blue tinge.

Peranakan kuehs like this pulut tai tai are often colored with butterfly pea flowers (Pic: Shutterstock)
Nutritional Benefits and Medicinal Uses
Butterfly pea flowers are rich in anthocyanin compounds called ternatins, which give the plant its vibrant hue [3].
Test-tube studies suggest that ternatins can alleviate inflammation and may prevent cancer cell growth [4,5].
Additionally, the plant contains several other antioxidants, including [5]:
Kaempferol. This compound has been studied extensively for its cancer-fighting properties. Test-tube studies indicate that it may kill off cancer cells [6].
P-Coumaric acid. Some research suggests that p-coumaric acid could have anti-inflammatory, antimicrobial, and antiviral effects, which may help protect against disease [7].
Delphinidin-3,5-glucoside. According to one study, this antioxidant may help stimulate immune function and cause cell death in colorectal cancer cells [8].
Try these Recipes at Home
Butterfly Pea Flower Tea:
In a small saucepan, bring 1 cup of water to a boil.
Add one teaspoon of dried butterfly pea flowers to the water and steep for 5 minutes.
Strain the tea and sweeten it to taste with honey or sugar.

(Pic: Shutterstock)
Butterfly Pea Flower Cocktail:
In a shaker, combine 1.5 oz of gin, 1 oz of lime juice, 1/2 oz of butterfly pea flower syrup, and ice.
Shake well and strain into a glass filled with ice.
Garnish with a lime wheel and a butterfly pea flower.

(Pic: Shutterstock)
Blueberry jam:
In a medium saucepan, combine 4 cups of blueberries, two tablespoons of butterfly pea flowers, 2 cups of sugar, 1/4 cup of lemon juice, and 1/4 cup of water.
Bring the mixture to a boil, then reduce the heat and simmer for 15 minutes.
Remove from heat and let the jam cool.

(Pic: Shutterstock)
These are just a few examples of how butterfly pea flowers can be used in cooking whether you try Butterfly Pea at home or stop by your local everbowl, make sure to try this fantastic color-changing ingredient!